BioGRID ORCS - Example Searches
BioGRID ORCS - Example Searches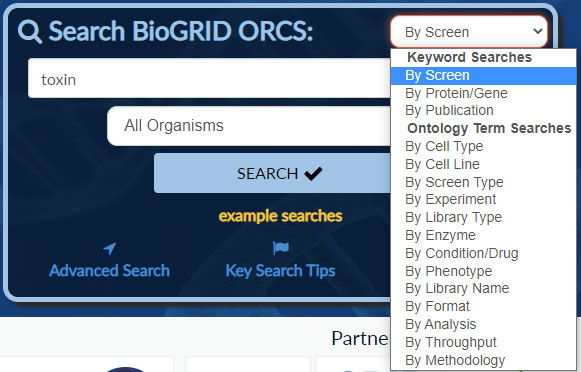 When searching BioGRID ORCS, you have a number of different options available to help you narrow down exactly what you're searching for. You can select the type of search you want to do, by choosing it from the "dropdown" list in the top right of the search box, as depicted in the image to the right. All searches can be restricted by organism.
Search Types
BioGRID ORCS Searches are broken down into two categories. Keyword searches and Ontology Term Searches. With keyword searches, you can search by plain text keywords and phrases to return results (search tips, advanced searching). For ontology term searches, you must choose specific ontology terms from a list of options.
Keyword Searches
There are three main types of keyword searches. By Screen (to search screen annotation), By Protein/Gene (to search protein/gene results) and By Publication (to search for entire publications). Each one can be used to find specific results within the BioGRID ORCS CRISPR Database.
BY SCREEN - Examples
BY PROTEIN/GENE - Examples
BY PUBLICATION - Examples
Ontology Term Searches
There are 13 different ontology term searches. For each of these, you simply have to select one or more of the available ontology terms, to limit your results. The following is a brief description of each ontology term search category.
By Cell Type - Search by cell types such as "acute myeloid leukemia" or "breast cancer"

By Cell Line - Search by cell line such as "HEK-293" or "CAMA-1"

By Experiment - Search by experiment such as "Timecourse" or "Toxin Exposure"

By Library Type - Search by library type such as "CRISPRa" or "CRISPRn"

By Enzyme - Search by enzyme such as "CAS9" or "SunCAS9"

By Condition/Drug - Search by condition/drug such as "Virus: Ebola" or "Methotrexate"

By Phenotype - Search by phenotype such as "autophagy" or "Response to Virus"

By Library Name - Search by Library name such as "Gecko" or "TKO"

By Format - Search by format such as "Pool"

By Analysis - Search by Analysis Method such as "MaGeCK", "RANKS", or "STARS"

By Methodology - Search by methodology such as "Activation" or "Knockout"